STYLE POINTS FROM THE PRESIDENT



Now is the time to live up to the expectation of UAT with coworkers, students, parents and employers. Let's figure out how to make this time the best and most hands-on with students we've ever been. Let's demonstrate our values, our tech-savvy and our high-touch approach to education. Most importantly, let's continue to be pioneers.
High Tech
UAT has been teaching online for nearly 20 years! We already have the technology in place for successful implantation of online classes and virtual communications.



Utilize the awesome tech we have already in place to communicate with prospective students, current students, and parents. Facebook, Microsoft Teams, FaceTime, texting, WhatsApp, Snapchat, etc..


This is a great time to get beyond email/phone and show people we are higher tech than their government-run school.


Have your own personal UAT-focused Instagram, Facebook or Snapchat? Use it to post updates, reach out to students who follow you, and "go live" to talk about current happenings and upcoming events.



LinkedIn: Connect with colleagues, students, potential students, outsider employers, etc. Share updates about the school and all of the "wins" we are having while being remote. An easy way to do this is to follow UAT's page and share everything from there!
High Touch
Being a small, private university we are always expected to be high touch with students, families, and coworkers. It's in our DNA. Now is our time to be creative and push boundaries with how hands-on we can be compared to a less nimble, large scale university.


BUILDING A ROUTINE



WFH gives many an opportunity to build a new daily routine. Many of us have been breaking up the days into weird patterns, showering at lunch, doing pushups during webinars, and finding other ways to create new and interesting routines.
Check in with yourself: your natural breaks have changed as Matt Mullenweg, the guy behind WordPress says "Without the natural breaks in your day that you're used to - your commute, your lunch break - it can be easy to let the day get away from you. It can help to ask yourself basic questions like, 'Am I hungry?' 'Am I tired?'"


Set boundaries for yourself: Many people underwork when they are at home and treat it like a weekend or vacation, but many other's overwork and never turn off.


Check in with your family: Right now many of us have families at home, which can be both wonderful and frustrating.



Turn off the news for a few hours: I am watching more news than ever; I have to in order to make sure UAT is staying on top of or ahead of what is occurring. However, it's melting my brain. Schedule some time away from the news, it will still be there when you get back.
BEST PRACTICES AND WFH GUIDELINES
Working Hours and How to Communicate Those
Lunch hour: Pick a regular time to take your lunch hour and put it on your Outlook calendar and also update your Microsoft Teams when you go on your lunch break.



To do this, you can update your status on Teams by clicking on your profile picture in the top left > click on "Set status message" > type out your message (ie: Lunch break, be back in five, etc) > click the box "Show when people message me". You just need to remember to change your status back to "available" when you get back to your computer.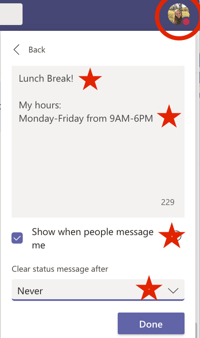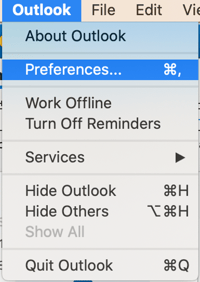 Moving From Being Managed by my Hours → Managed by my Output/Performance
You should be aware already of what outputs and action items you need to complete each day, per your job descriptions which are located in Bamboo under the "Documents" tab. If you have questions about what tasks you need to have completed each day, work directly with your manager. Working from home is all about constant communication to ensure the output is consistent with what would be expected if you were in the office.



You must still work your typical shift so colleagues have consistent times and days they know how to collaborate with you, and reported output metrics are now even more important than ever. Communicate with your team and manager on what types of metrics you should be reporting out at the end of the day such as showing what you've accomplished, what issues you may have run into, what "wins" you had, and what you need to work on tomorrow.
It's Still Work Time, Not Play Time
Managing Home Distractions
Be in a part of your house that you can deem your "work from home station". Set it up with everything you need to be productive during your work day to limit distractions such as getting up to go to the other room to grab your charger.


Sit in a comfortable spot. While sitting on your bed might seem like a good idea, it probably will not allow you to be as productive.


Kids at home? Before your shift each day, try to have a game plan with them of how the day will go. Get them set up with activities, books, games, etc. to keep them busy while you work. Also advise them of times during the day when you will have a break, such as your lunch break, where you can have time together and re-assess their day as needed.


Use your lunch break or your time after work to work on any outstanding personal projects around the house that you are working on that might be causing you to be distracted from your work.


Listen to this podcast or read the included article

"

It's Boss Level Mode Time by Matt Mullenwig

"

for tips on staying productive while working remote.
COMMUNICATION
What Platform Should I Use, When?
Written communication needs to be significantly more rich, organized, clear, and well-presented. Also, it should be concise and to the point. In a distributed work environment you aren't able to clarify or see confusion on people's faces. Mitigate that by sending out well-executed emails.

On that note, many times you might use voice messages to communicate; these recorded messages remain asynchronous but can be more efficient than typing and carry more context and nuance than text or IM.

Email: Send an email when you do not need immediate assistance, it is not something that needs to have a back-and-forth conversation, or you need to send out informative information to multiple people. Be cognizant of other peoples' time.

Teams chat: Teams will be used for virtual meetings, conference calls, and if you need immediate answers. Is it a question or comment you'd normally make in a face-to-face situation? Teams is the way to go. Attempt to use face-to-face meetings as much as you can! It's always more personal that way. You can send a quick message like "Meet now?" and hop on a call. Just remember, don't spam people with messages that could be an email.

Teams Channels: More asynchronous threaded posts for information that can be more static. There is an All Employee team with several channels and departmental channels as well.
Text/Teams/Email Overload
For Group Meetings
During team video meetings/calls, one person should take notes in a Quip or Word document in OneDrive so that way there are live meeting minutes populating in front of everyone. This will alleviate any potential issues if sound cuts out, Wifi is spotty, etc then everyone will still know what is being discussed during the meeting.
How Do I Schedule a Teams Meeting? (Teams is also available on mobile devices)
To schedule a meeting for a future time go to the left side of the screen where you will click on "Calendar" > "New Meeting" in the top right box in purple > and then fill in the required details such as Title, Attendees, Day/Time (is it going to be recurring?), etc > then click "Save" which is in a purple box in the top right.


Microsoft Teams works for non-teams "outside" people, you can set up meetings and video/call through teams with anyone. To do this you will go to your Outlook calendar and create a meeting with the student/parent/employer/etc by using their email you have on file. Click on "Teams Meeting" at the top bar so it has a grey square behind it showing it is activated. The recipient will receive an email with their meeting invite which will direct them to download the Teams app if they don't have it already. They can join your meeting as a guest so they will not need to have/make a specific Teams account.



To set up an immediate meeting, go to the left side of the screen where you will click on "Calendar" > "Meet now" in the white box on the right top side > click "Join Now" in purple > then on the right side of the box you can add all of your attendees. It will immediately dial to connect with them.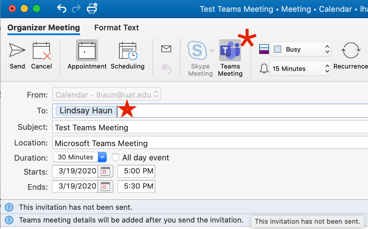 Video Chat Should be Your Go-To. Use it!
Video makes everything so much more personal, which is a fundamental trait that keeps UAT unique compared to other institutions. Our students need to physically see that we are working hard to support them during this time. Our colleagues need to physically see that we are all in this together to keep up momentum.

Our very own fabulous Sharon Bolman has a YouTube tutorial on how to set up your camera for a video chat (ps. the goofy soundtrack was an after effect from a DV intern). Below are general tips for a professional-looking video chat from the COM226 course.
Camera at eye level.

Camera should be an arm's length away.

Look at the camera, not the screen.

Clean up the area behind you.

Avoid any light sources in the view of the camera (windows, lamps, ceiling fixtures).

Remove or turn off any moving objects like ceiling fans.

Well behaved pets are okay! But what about the thoughts of "Hey, I'm working from home. Might as well stay in my pajamas all day and hide my face today." But don't let yourself get in that mindset. We are all still hard at work and need to see other UAT-ers to keep up the momentum. Microsoft Teams has a mobile app so you don't need to have a laptop or desktop with a webcam to participate in video calls.

Staff and faculty who are doing video meetings/chats with current and prospective students MUST abide by the usual UAT dress code (at least on top).

Teams Screen Sharing: Screen sharing is a visual way to show what is on your screen to get your point across.

On a Teams call with a potential student? Use screen-sharing to guide them right to the UAT application and walk them through what is required and what we are looking for.

Use it with a colleague to show them live, step-by-step instructions on how to do something.

IT may use this feature with you if you are having technical issues that they can help you resolve.
Outreach To Students
Use video chat options every chance you have regardless of who you need to talk to. We are part of a small university and this is part of what makes us special. We provide a high level of contact and it shows we go the extra mile for our students.
Student Services and Financial Aid: set up Teams face-to-face meetings to replace emails and texts.

Admissions: Teams, FaceTime, WhatsApp vide, Google Hangouts, or Zoom with your enrollment consultations and admissions calls. There are so many options for how to communicate with students. Your first option should always be Teams as we have the integration with our Outlook calendars and works with non-teams users.

Admissions/Student Ambassadors: set up a virtual tour! The Student Ambassadors can do their campus tour virtually while being able to ask questions and engage. Don't just send the potential student/family to the website.

Faculty: use video calls for student questions and feedback or to collaborate with your team members.



Staying Social & Sane



Continue your relationships you normally maintain while in the office, but do it virtually! Send a quick meme, during a lunch break use Teams video calls to "have lunch" and catch up. We have set up a standing, all-staff "lunch room" zoom meeting that will be open to all staff who want to have lunch with their UAT family (this should be on everyone's outlook calendar).

Message coworkers you don't work directly with on a daily basis. Talk about new recipes, what they are doing to stay sane, send GIFs, talk about movies or TV shows you're watching.

Staying connected with everyone is important. Sometimes you just need to take a mental break and talk about something funny or non-work related. Microsoft Teams has a channel under the "Teams" section on the left side of the window. Under announcements, click on "Water Cooler Chit Chat". Use this to have fun and stay connected with each other! *work-appropriate type of fun, please.*

Go for a walk around the neighborhood on a lunch break! Just keep a six-foot distance from any humans you see. Getting outside for a little exercise and Vitamin D is a great way to take a mental break while working from home. Another tip is to go for a walk around the neighborhood before and after your work day for the length of time your typical commute is. This encourages your brain to have a separation between work and home to help you prep for the day or wind down at the end of the day. It also keeps up your normal routine for when we start working back in the office.

This article called How To Work From Home Without Losing Your Mind provides some humor-filled suggestions to stay sane while working from home.

Create micro-habits that increase your productivity higher than it's been before. Examples: burn a candle that makes you happy, every 30 minutes do a few pushups or quick stretching, or listen to music that makes you pumped to get sh*t done. This article has scientific reasons as to why you should listen to video game soundtracks while you work with a few playlists.

Drama/Inferences
Working from home is new for the majority of us at UAT and it takes time to get in the swing of things. Absolutely do not gossip, spread drama, or talk poorly about your colleagues. If any word of gossip or drama gets called to leadership attention there will be repercussions for those involved. If you are having difficulties working with a colleague while working remote, discuss the matters privately with your manager to come up with solutions.

Your reactions can vary depending on the environment around you, especially when in a different space than you're used to. When it comes to working from home, since it is still new, you may find that you may see situations differently or react differently than you would when in the office. Our perceptions are tied to our environment. This may lead you to make different inferences, or opinions, differently compared to what you normally would. Why is face-to-face time important with your colleagues? To avoid the weirdness that happens when you go a full day without any UAT-human interaction! It reinforces in your brain the UAT values and culture we work so hard to be a part of.

Have you ever read a text and misinterpreted how the person on the other end meant it to read? Not being able to see someone's body language and facial expressions can make it difficult to understand context, which can lead to building your own inferences. You just have to be aware of this in all of your communications. Having conversations via video chat can combat that exact situation very easily.
TECHNOLOGY
Technology Tips & Tricks
When in video/call meetings:

Update your Teams status to "do not disturb" which will mute any messages you get to stop extra sounds being heard in the call.


Use headphones with a microphone to improve sound and clarity. This will help eliminate background sounds of your furry children or human children. Nearly all modern headsets have noise cancelling and Apple AirPods definitely do.


During a meeting when you are not speaking, consider muting your microphone to avoid any background noises or feedback sounds.


Keep your computer and phone sounds on to receive messages, emails, and call notifications immediately.
Ensure your Wi-Fi in working order for fast, reliable internet connection.



OneDrive: Every team has a "Shared Library" which is a hosting spot for any team information that will be important for everyone to have access to. Training documents, best practices, meeting minutes, templates you use, etc.
Here are some fun tricks that the managers have shared since WFH:
Download a meditation app! I use

"

Insight Timer

"

and they have over 30,000 free meditations for better sleep, stress, mindfulness, etc.


You can scan documents in the iPhone notes app. Open the app → create a note → press the camera button at the bottom → press scan documents.



If you hold down the space bar in a Zoom meeting, you can temporarily unmute yourself. Release the space bar and you're automatically muted again. Just make sure you don't have the chat open or it won't work.

You can privately message participants in a large Zoom meeting so that you don't crowd up the "everyone" chat.


Tired of the news? Us too. Flipboard is an app that lets you personalize your interests and passions and gives you the latest news stories on those.


You can still do Teams meetings with people that don't have a Microsoft account. Have them use a web browser (Chrome/Firefox) and they can join as a guest. Or, they can create a free Teams account here for the duration of the pandemic.


If you're having a group FaceTime call, you can press the home button and it will minimize the video so that you can view other parts of your screen.


Feeling stressed/anxious/overwhelmed? Check out

http://www.donothingfor2minutes.com

.
Maintaining Information Security
Log in and out when they are not using your computer. If you leave the computer on, a family member with no bad intent may see what he or she should not or might send a message that could cause a security/data breach. This is especially important if you are using your own personal home computer.



If you don't have any malware protection on your home device, some recommendations that came out of the town hall the other day were: Bitdefender, Malware Bytes, AVG

Secure your home network by being on the latest software update and update any anti-virus software you already have installed.


Keep your computer and devices up to date.


Do not forward student information or emails to your personal email, use UAT email accounts and file systems.



Do not violate FERPA.
Do you have any more WFH best practices to share? Email marketing@uat.edu