CAMPUS SAFETY PROTOCOLS
Being a private, intimate University, UAT is in an excellent position to provide a safe, yet fulfilling experience to our students starting their higher education journeys during the COVID-19 pandemic. Our small campus allows for tighter control of the safety measures we've put in place, while providing us the ability to stay flexible throughout this time so that we may be responsive to student needs. In accordance with guidelines and recommendations from local and national health authorities, UAT has implemented the following safety protocols:
FACE COVERINGS
UAT is requiring all students, faculty, staff and in-person vendors to wear a face mask, face covering or face shield when on campus.
This includes Founder's Hall (when outside their dorm room), UAT's main building and all outdoor spaces.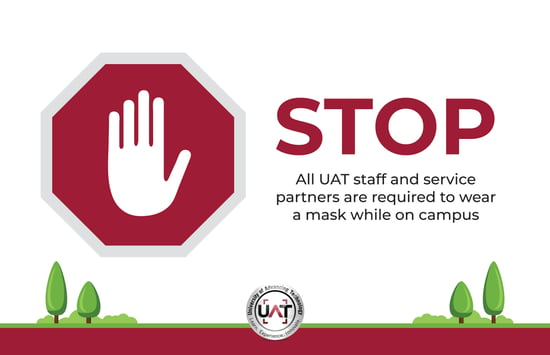 TEMPERATURE CHECK
Any person who enters UAT's main building or Founder's Hall will be required to walk through a temperature scanner. This scanner tests a person's surface body temperature. As we are situated in Tempe, we are aware that a surface body temperature may read artificially high so a secondary testing station has been set up for those whose temperatures read 100.4F degrees or higher.
Directional signs have been placed around campus to ensure all who enter are directed to the temperature check station and to reduce cross-traffic. Symptom check and entry requirement reminders are present at every entrance. For the full UAT COVID-19 Safety Policy, including details on the secondary temperature testing process, visit the policy page on our website here.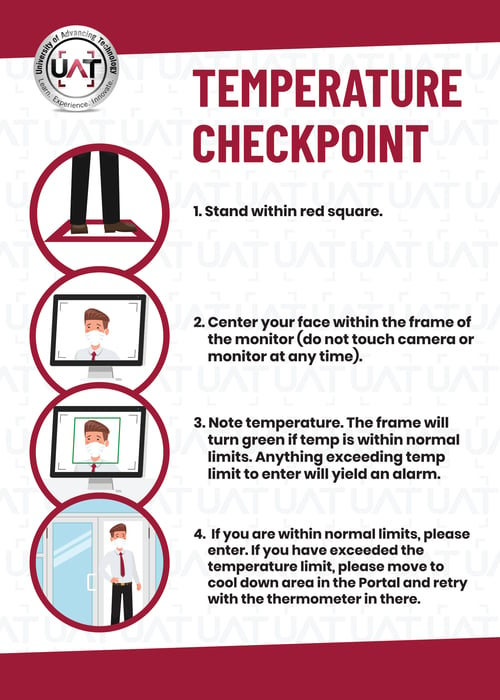 SOCIAL DISTAINCING
All people on UAT's campus are required to social distance. This means no one should be within 6 feet of another person at any time. The following measures are put in place to help everyone to social distance:
The Theater seats have been marked with sheets of paper to keep open seats a minimum of 6 feet away from one another.



Stickers have been placed on common area floors to demonstrate 6 feet of distance when waiting in lines.




UAT Cafe tables and Computer Commons computers have been removed at intervals of a minimum of 6 feet so social distancing is available in these areas.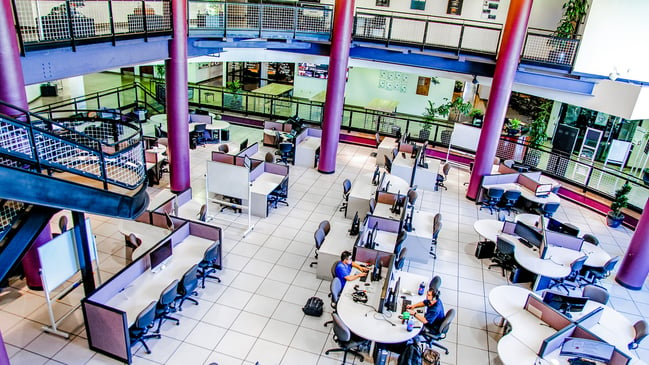 Unused classrooms and spaces will be blocked or locked to encourage students to work in open areas.




The elevator may only be used by one person at a time.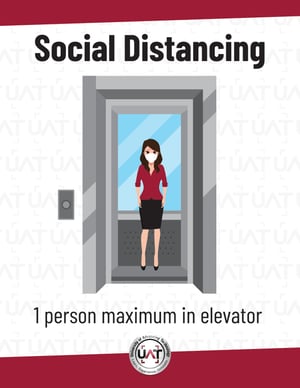 CAMPUS CLEANING
Immediately after Arizona's Stay-at-Home order was enacted on March 16, 2020, UAT's contracted cleaning company released the following details of additional cleaning standards in response to the COVID-19 outbreak. Since March, UAT's maintenance staff have been in constant communication with our cleaners to ensure that the most-used spaces have continued to be the most cleaned. Both the Founder's Hall dorm and the UAT main building have a cleaning crew onsite 7 days per week. The most heavily used ("high-touch") spaces and surfaces are cleaned between 2-4 times per day.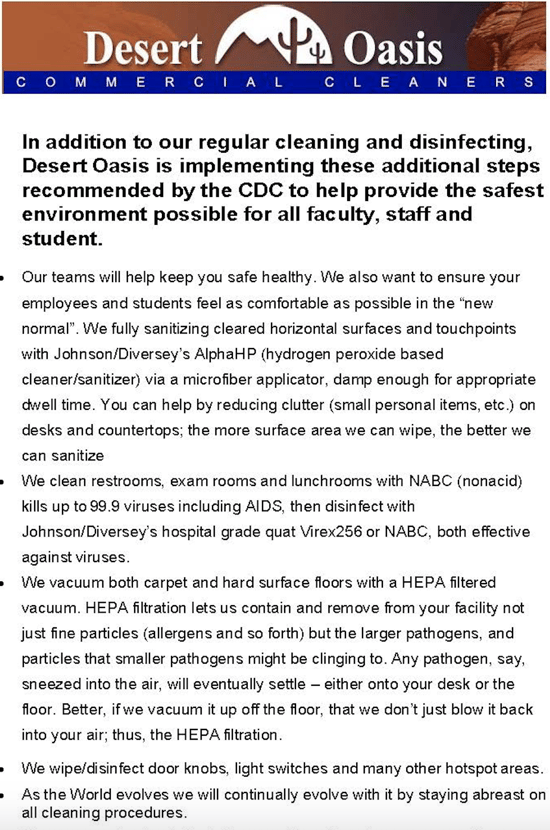 PERSONAL HYGIENE & SIGNAGE
A variety of signage has been placed around the campus encouraging personal hygiene and reminding staff and students how to stay safe and healthy. Additional hand sanitizing stations and sanitizing wipes have also been placed around campus to further encourage cleanliness and safe interactions.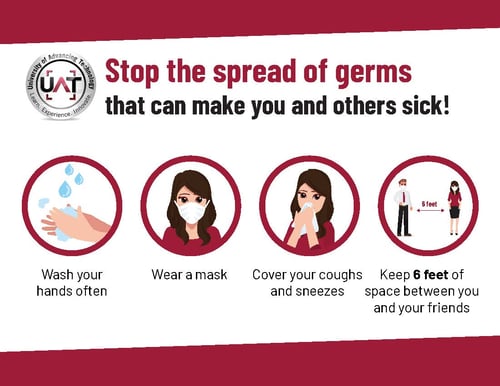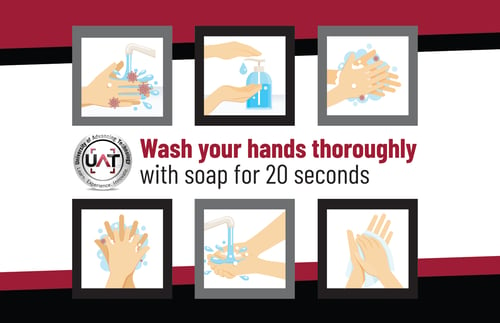 CAMPUS ACCESS
The UAT campus is closed to the public. At this time, only current active students, and staff essential to student support and campus functions are allowed onsite. Until further notice, alum may not access the UAT campus resources. Guests of UAT students and staff are not allowed to visit the campus. Allowances will be made for those families moving a student into Founder's Hall during the week of January 6-7, 2021.
For more information or to schedule your move-in appointment refer to the MOVING IN TO FOUNDER'S HALL section or reach out to Founder's Hall Housing Director, Kenton Ellis, at kellis@livefoundershall.com.